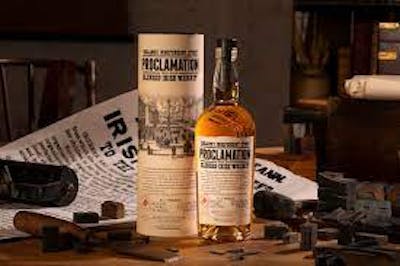 SKU: IRWH-PROCBLEND-NV
Proclamation Blended Irish Whiskey
---
---
Proclamation Irish Whiskey honours both the history and the péople behind the birth of the Irish Proclamation. This is a triple distilled blend of the finest grain whiskies from across Ireland. Crafted in small individual batches offering a liquid of complex, yet refined character, aged in new American Oak, offering up a singularly smooth whiskey with a clean taste. Matured in bourbon casks & blended with a touch of sherry finished malt to give a rounded toasted finish.
Nose: FIRST TO BE REVEALED is ripe Williams pear, followed by an abundance of apricot and creme brulée notes. Slowly developing through to rich custard, freshly brewed cappuccino and ending with woody notes.
MOUTHFEEL / PALATE: FRONT LOADED NOTES of toasted brioche, freshly baked pastry and overtones of macerated yellow fruits. Fusions of tannins on the mid-palate with a robust yet rounded finish.
AFTERNOTE: OVERWHELMINGLY SMOOTH and creamy with a mellow finish, with hints of toasted cereal.