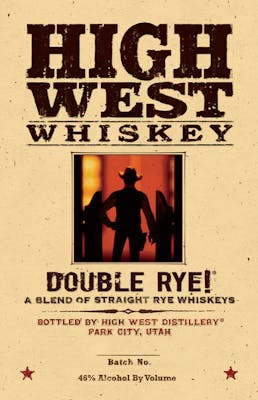 SKU: RYE-HGHWSTDBLRYE-NV
High West Distillery Double Rye!
---
Unavailable
We're sorry, but this product is not currently available.
---
A nose of mint, clove, cinnamon, licorice root, pine nuts, and dark chocolate, with a surprising dose of gin botanicals throughout. On the palate are rye spices up front, then menthol, mint, eucalyptus, herbal tea with wildflower honey and allspice. Cinnamon and mint, gradually sweetening through the finish with a hint of anise. Very rye-forward, which stands out well in cocktails, but just enough richness to be a balanced sipper.
Billed as "the spiciest rye whiskey anywhere," this is a blend of two rye whiskeys, both a minimum of two years old, sourced from multiple distilleries. The 2018 bottling has a mild, honeyed scent, while the palate surprises with vanilla custard contrasted by traces of smoke, eucalyptus and cigar wrapper. As promised, the long finish explodes with a spicy burst-but don't worry, it's not too extreme to sip.